Athletic Activity

What are the recommendations after knee replacement?
After knee replacementknee replacement surgery, it is important to keep physically fit. The home exercise programhome exercise program is a good starting place to build strength and agility within the operated knee. One of the best post-operative exercises is bicycling. Bicycling is non-impact and will strengthen the quadriceps, hamstrings, gluteal and calf muscles. Early the in recovery process, it is best to use a stationary bike until good balance is achieved. Patients who have back conditions may benefit from using a recumbent bicycle. Long term, bicycling will help keep the knee strong while improving both heart and lung function.
Over the last 20 years, surgical technique, implant design and manufacturing have improved. This has lead orthopaedic surgeons to allow patients more freedom to return to sports after surgery. In general, 75% of patients who participated in sports just prior to having knee replacement surgery are able to continue to play sports after surgery.
In a 2009 survey of orthopaedic surgeons, more than 95% allow their patients to return to low impact exercises including walking, stair climbing, bicycling on level surfaces, swimming and golf. High impact activities were generally discouraged. However, there was considerable variability in the surgeons' response to this question. When compared to the same survey from 1999, most surgeons now allow their patients to participate in more strenuous activities than previously.
When returning to golf after knee replacement surgery it is important to slowly increase participation as healing occurs. While each patient's recovery is individual, the following return to sport guideline may be helpful: chip/putt at 4-6 weeks, half swings at 6-8 weeks, full swings by 10-12 weeks. Once you are comfortable with full swings, limit playing to 9 holes to get a sense of how the knee feels afterward.
A study of 83 amateur golfers was performed to determine how the knee replacement affected their game. Of those patients, 16% reported a mild ache while playing and 35% reported a mild ache after playing golf. Following knee replacement surgery, the average handicap increased by 2 strokes, and the average drive decreased by 12 yards. Most golfers (87%) used a cart to travel around the course.11
There is also a difference in playing discomfort depending on which knee was replaced. For example, right handed golfers have increased torque on the left knee during the downswing and follow through. This study found that right handed golfers commonly experienced more discomfort if their left knee had been replaced as opposed to their right knee.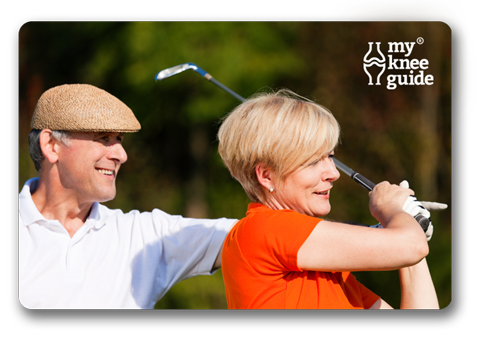 When patients resume tennis, orthopaedic surgeons are much more likely to recommend return to doubles rather than singles. Tennis requires significant forces applied to the knee in order to pivot, cut and push off. After surgery it becomes important to play smarter. Avoid quick changes in direction and allow the hard to reach shots to go by. This will reduce the chance of injury to the knee.
Return to high level sporting is possible, but should not be expected. There is a study (31 patients) that has shown that some patients can return to high demand sports such a basketball, jogging, downhill skiing, racquetball, or even singles tennis. This study followed patients for 4 years after knee replacement. It is important to emphasize that return to these types of activities may shorten the life span of the knee replacement. High impact loading and twisting of the knee may be associated with premature weakening of the bearing surfaces, implant loosening or joint trauma.22
Related Articles