Hibiclens Soap

Reduce the chance of infection after knee replacement surgery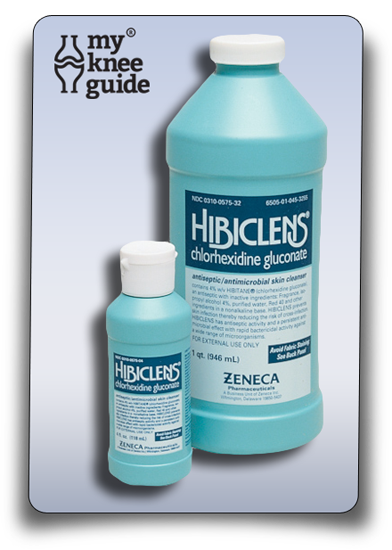 Hibiclens® is a special soap containing chlorhexidine gluconate. It kills a wide variety of microorganisms that cause infection, including MRSAMRSA. Many surgeons will recommend to use Hibiclens for daily showering three days prior surgery.
Use your normal shampoo on your hair. Apply Hibiclens from the neck down avoiding the genital area. Use Hibiclens as you would any other liquid soap. Apply to the skin and rub in gently. Step out of the stream of the shower while applying. After five minutes, rinse Hibiclens off. Do not use regular soap after Hibicens. After you have completed your shower with Hibiclens, apply a fresh pair of clean bed sheets to reduce the chance of recolonization of your skin.
Hibiclens has the ability to bond to the skin, and with repeated use has a cumulative effect. Additionally, it has residual anti-microbial activity after it is washed off and has a relatively low potential for skin irritation. If you have an allergy to chorhexidine, do not use Hibiclens.
The active agent in Hibiclens soap is so effective that many orthopaedic surgeons use it as the primary method for "prepping" the skin before performing knee replacement surgeryknee replacement surgery. Additionally, many orthopaedic surgeons use chlorhexidine as the agent for scrubbing their own hands and arms before gowning for surgery.
Hibiclens is available at most major retailers. Find out more information on where to buy Hibiclens soapwhere to buy Hibiclens soap.
Related Articles